We recognize that all of our patients are unique and deserve to receive dental care that reflects their individual needs. Our experienced and talented dental team is committed to working with you and your family to create a comfortable, stress-free, and rewarding dental experience every time you visit our practice.
We are pleased to welcome you and your family, and we look forward to working with you.
---

Emily
Dental Hygienist
My name is Emily Hookom. I graduated from OU Dental Hygiene School in 2009. I've been married to Matt Hookom for eight years. We have two kids, Belle and Luke. I love spending time with my family, fishing, and being outdoors.

Jennifer
Dental Hygienist
I have been serving people through dental hygiene since 2007. I married Zack Morgan in 2004 and am the mother of two awesome boys: Will and Gage. I enjoy time with my family, riding rangers, and chasing armadillos. Our family lives in Moyers, Oklahoma. I look forward to seeing you soon.
Michelle
Dental Hygienist
I am Michelle White from Clarita, Oklahoma. I graduated from the University of Oklahoma College of Dentistry in 2007. I have two sons Rance and Reid that keep me on the run going to football games and pig shows.
In my free time, I like to spend time with my family, attend church and go to Lake Texoma where I love to water ski, fish, camp, and enjoy my time on the lake.
I am married to my sweetheart Doke White, and we joined our families adding two more wonderful boys (Blake and Shelton) to the mix. The Lord has truly blessed my life and it was all in His perfect timing. I'm am a true believer in our Lord Jesus Christ and I am here to serve.

Savannah
Insurance Coordinator
I joined the Custom Dental family in 2019. We have the best team and patients. We all have different strong points that complement each other and make a pretty great team, and we have fun while doing it!
I love working the numbers and spreadsheets, which makes the Insurance Coordinator the perfect job for me.
I am happily married going on 5 years to my amazing husband, Landry. We have a beautiful, happy, wild one-year-old boy, Colt. Anywhere my family is, is where I want to be! We love the outdoors, football (Go Dallas) & relaxing at home!

Julia
Dental Assistant
I have been married to my amazing Husband Ricky since 2005. We have 3 beautiful and energetic kids, Khaylee, Lizbeth, and Colton. We enjoy racing dirt track, watching the kids play basketball, softball, and dance. I love being part of the Custom Dental family and being able to help serve the wonderful people of our community.

Cheyenne
Dental Assistant
I graduated from Custom Dental Assisting School in the spring of 2023 and began working for Custom Dental right afterward. I love the way our team works together and being able to help patients. In my spare time, you can find me on back of a horse either breakaway roping or out checking cows in the pasture.

Jade
Dental Assistant
My best professional decision was to join the Custom Dental family in January 2019. I'm very passionate about my patients and look forward to getting to know new ones.
I've been married to my best friend, Bo, since 2020. I am a bonus mom to our two wonderful kids, Chaydon and Trynlee. Spending time with my family is my greatest enjoyment. We love being outdoors in the woods, hunting, riding side by sides, and being at the lake, fishing.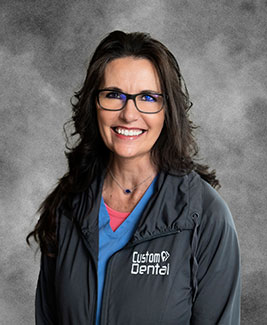 Renee
Office Manager
I joined the Custom Dental team in March 2018 and brought with me many years of community and administrative experience. As our office manager and financial coordinator, I help our team navigate through their days and our patients through their treatment. I love our patients and my goal is to develop relationships that will make them feel like family. Together, Mark and I have four daughters and nine grandchildren. Mark and I love to spend our extra time traveling and enjoying family.