We recognize that all of our patients are unique and deserve to receive dental care that reflects their individual needs. Our experienced and talented dental team is committed to working with you and your family to create a comfortable, stress-free, and rewarding dental experience every time you visit our practice.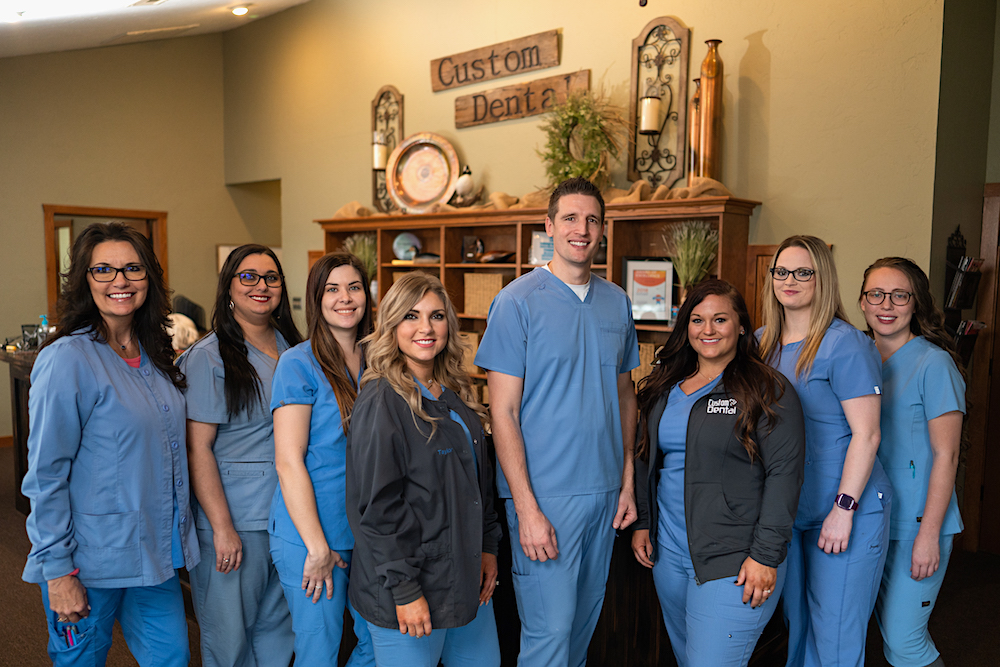 We are pleased to welcome you and your family, and we look forward to working with you.
---

Emily Hookom
Dental Hygienist
My name is Emily Hookom. I graduated from OU Dental Hygiene School in 2009. I've been married to Matt Hookom for eight years. We have two kids, Belle and Luke. I love spending time with my family, fishing, and being outdoors.

Jennifer Morgan
Dental Hygienist
I have been serving people through dental hygiene since 2007. I married Zack Morgan in 2004 and am the mother of two awesome boys: Will and Gage. I enjoy time with my family, riding rangers, and chasing armadillos. Our family lives in Moyers, Oklahoma. I look forward to seeing you soon.

Jaime Ingram
Dental Hygienist
My name is Jamie Ingram. I was born and raised in Ada, Oklahoma. I graduated from the University of Oklahoma with a Bachelor's degree in Dental Hygiene. I have been practicing hygiene for 18 years. I am married and have three children: Avery, Addison, and Jett. I live in Ardmore and spend most of my time watching my children play soccer, softball, t-ball, and competitive gymnastics. I enjoy going to the lake with my husband and kids in my free time.

Michelle Ables
Dental Hygienist
I am Michelle Ables from Clarita, Oklahoma. I graduated from the University of Oklahoma College of dentistry in 2007. I have two sons Rance and Reid that keep me on the run going to football games and pig shows.
In my free time I like to spend time with my family, attend church and go to Lake Texoma where I love to water ski, fish, camp and enjoy my time on the lake.
In June 2020 I will marry my sweetheart Doke White, we will join our families adding two more wonderful boys (Blake and Shelton)to the mix. The Lord has truly blessed my life and it was all in his perfect timing. I'm am a true believer in our Lord Jesus Christ and I am here to serve.

Aja Daniel
Dental Assistant
My name is Aja Daniel and I am originally from Ada, Oklahoma. I have been married to my husband Logan since 2013 and we have two beautiful daughters, Lyla and Rory.
I joined the Custom Dental family in 2018 through their dental assistant course and accepted a position with them shortly after. I look forward to assisting you with your dental needs!

Julia Boston
Dental Assistant
I have been married to my amazing Husband Ricky since 2005. We have 3 beautiful and energetic kids, Khaylee, Lizbeth, and Colton. We enjoy racing dirt track, watching the kids play basketball, softball, and dance. I love being part of the Custom Dental family and being able to help serve the wonderful people of our community.

Jade Graham
Dental Assistant
I received my Associates in Science from Carl Albert State College and my Dental Assistant licenses from Grayson College. I've been a Dental Assistant for 6 years. I was blessed to join the Custom Dental family in January 2019.
I'm engaged to my wonderful fiance, Bo Fox. I enjoy hunting, playing softball and spending time with family. I have a deep passion for all of my patients. I'm looking forward to getting to know you.

Savannah Harrington
Director of First Impressions
I married my husband, Landey, in November 2017. We moved to Lane, OK in May 2019, and I love the area. I love spending time with my family and being wherever my husband is. I love being a part of Custom Dental and can't wait to meet you all.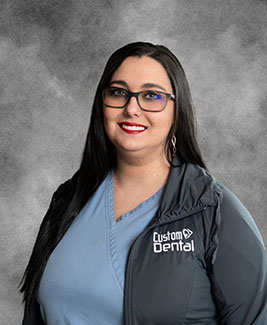 Melissa Bayles
Insurance Coordinator
Hi! My name is Melissa. I have been married to my wonderful husband Ronald for eight years and we have three amazing kids, Dawson, Trigger, and Tymber. We enjoy anything outdoors like hunting, fishing, 4-wheeler riding, and even traveling. I have been with Custom Dental as the Director of First Impression since 2009. I enjoy meeting new people every single day! My mission is to make your experience the best it can be and to make our wonderful community a better place to live, work, and grow. Thank you for allowing me to serve you all these years and I look forward to serving you for many more!

Rene Turvey
Office Manager
I joined the Custom Dental team in March 2018 and brought with me many years of community and administrative experience. As our office manager and financial coordinator, I help our team navigate through their days and our patients through their treatment. I love our patients and my goal is to develop relationships that will make them feel like family. Together, Mark and I have four daughters and nine grandchildren. Mark and I love to spend our extra time traveling and enjoying family.